Meet Anna Arrington, TSOA's Chief Financial Officer
Woodstock, GA – (April 20, 2021) – TSOA, Transport Solutions of America (TSOA), a leading vehicle transport company focused on servicing the fleet industry of North America, introduces Anna Arrington, Chief Financial Officer.  
Meet TSOA's CFO Anna Arrington and join us in celebrating her one-year anniversary with the company! Anna joined TSOA as Chief Financial Officer in April of last year and hit the ground running. She has a passion for leadership, process improvement, finance and creating a positive work culture. As CFO, Anna oversees TSOA's teams in AP, AR, financial reporting, controls, analysis, forecasting and budgeting.  
Anna graduated in 2001 from Western Carolina University with a Bachelor's of Science in Accounting. Since then, has had a successful career in finance. Anna comes to us from PLAE where she served in several roles including Estimator, Director of Finance and Corporate Controller. TSOA is thankful to have Anna in a leadership role! She brings the caring heart, energy, positive attitude, knowledge and experience we need to take TSOA to the next level as an organization.  
In her spare time, Anna loves spending time with her husband, two daughters and feline family! She's an avid runner and enjoys spending time doing yardwork.   
When asked why she joined TSOA a year ago, Arrington commented, "I joined TSOA to learn a new industry, to be part of a successful and growing organization, and for a culture that I knew would help me evolve as a leader. I am confident my contributions will help take TSOA to new heights!"  
About Transport Solutions of America 
Founded in 2006, Transport Solutions of America (TSOA) is a full-service drive-away company with a specialty in servicing the fleet industry across North America.  The company transports all types of assets, including service vehicles, cars, light duty vehicles, heavily upfitted medium-duty/heavy-duty, and HAZMAT service vehicles.  As a family-owned company, TSOA takes pride in offering personal, customized service to each client. Its simplified online ordering process, instant quotes, state-of-the-art tracking and logistics systems, and instant delivery notification ensure a smooth process from start to finish. TSOA's drivers are located throughout North America and meet rigorous safety and compliance standards. For more information on Transport Solutions of America, contact 866-374-0483 or visit www.TSOA.com.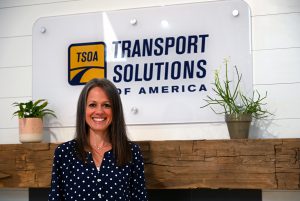 Media Contacts:
TSOA, Transport Solutions of America
Erin Gilchrist Rugg
614-579-6487 or egilchristrugg@tsoa.com